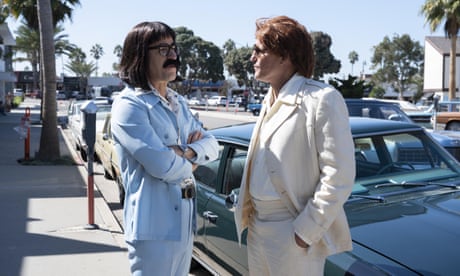 Woody Harrelson and Justin Theroux lead an all-star production with a gigantic budget. But why do the two leads seem to be acting in totally different shows?
Here is a list of things I love (incomplete), all of which are pertinent to HBO's new dazzlingly cast hour-long White House Plumbers (30 May, 9pm, Sky Atlantic): Justin Theroux's huge performance in Maniac, truly one of the best shows Netflix has ever produced and worthy of an annual rewatch if you haven't already; Woody Harrelson's performance in True Detective, which is worthy of a biannual rewatch even if that finale is still … well, still like that; HBO shows that absolutely commit to one slightly annoying TV-making tic, such as the turning-to-camera thing in last year's Winning Time. I love really stacked casts and I love period-set pieces that lampoon the moment they are set in while still being lovingly immersive. A list of things I don't love (also incomplete): White House Plumbers.
The set-up is this – Americans are still obsessed with Watergate. It's absurd how much I have heard about Watergate when it happened in a country I don't live in 15 years before I was born and basically amounted to a bit of sticky tape over some door locks and some badly concealed tape recorders. (The main leaker, who had a universe of nicknames to anoint themselves with, chose Deep Throat? Come on!) But for some reason America is still convinced it's one of the most fascinating moments in espionage history and should be retold, yet again, even though we already have All the President's Men. And so: five episodes, Woody Harrelson opposite Justin Theroux, an enormous production budget and a supporting cast so stacked as to be almost unbelievable.
Continue reading...