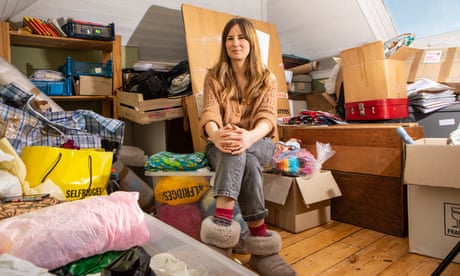 I read Marie Kondo's The Life-Changing Magic of Tidying and started purging decades of detritus. But I wasn't prepared to see my daughter's old trike in the charity shop window
I saw the wooden trike in a charity shop window, sometime around 2017: it was a bit like seeing a once-beloved ex on a dating website. You didn't necessarily want them, but you didn't want anyone else to snap them up either. The trike had belonged to my daughter, and I was in the throes of decluttering my house – throwing other people's things out, I had found, was easier than my own. I bought the trike back, and for weeks I staked out the other charity shops that had been given my castoffs in the hope I could reclaim books, jumpers, a small colander … Some came back to me, but most didn't.
Like many people, I read Marie Kondo's bestselling book The Life-Changing Magic of Tidying, and embraced radical decluttering as a way to improve myself. I threw out decades of detritus – payslips saved from my first job, CDs, reams of old magazines. About half went unmissed, but the rest has been largely regretted, including clothes, books and many random items I turned out to be quite sentimental about. The books I kept, which now fit on one bookshelf, are all impressive, truly self-improving works that everyone should probably read. I've still not read them and almost certainly never will. That bookshelf reminds me of my failure.
Continue reading...