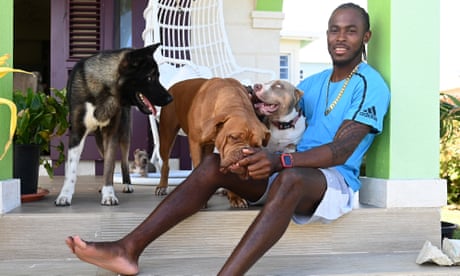 Fast bowler is raring to reclaim the Ashes on home soil after a joyous period of 'shovelling lots of poo and feeding lots of dogs'
Therapy dogs can be found providing comfort to everyone from stressed students to nervous flyers but they are not necessarily associated with elite sport. Yet if England win back the Ashes this summer their success may owe a debt of gratitude to the role played by five American pitbulls in helping Jofra Archer return to fitness after 18 months out of the game.
Archer is in Bloemfontein as part of England's 14-man squad preparing for a three-match one-day international series against South Africa which means a great deal more to the hosts than the tourists with Temba Bavuma's team still desperately clinging to hopes of automatic qualification for the World Cup in India in October.
Continue reading...