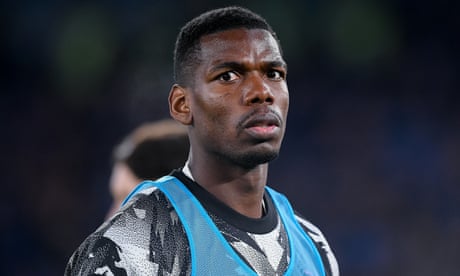 Midfielder deserves football's understanding for the kidnapping and threats that are damaging his life and career
It is seven years since Paul Pogba joined Manchester United from Juventus for a then world-record fee of £89m. He was 23 and had already won four Serie A titles. He had been named young player of the tournament at the previous World Cup. He was a star on the rise, the sort of player who might conceivably drag United out of their post-Alex Ferguson slump.
Pogba had apparently only one fault: he seemed a player out of time, a box-to-box midfielder in an age that had outgrown them. Midfields had split into two bands, and he didn't quite have the tight technical ability to play in the more advanced line, receiving the ball often with his back to goal, but wasn't quite disciplined enough to operate consistently as a holder (which, anyway, felt a waste of his profound creative gifts). What he needed was to operate on the left of the midfield three as he had at Juve, but that was not how United played. That quibble, though, was only the start of it.
Continue reading...