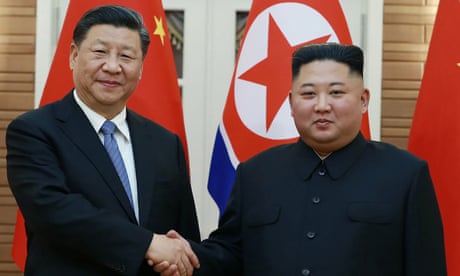 It's not just Putin or the refusal of the major powers to disarm. Unstable regimes in Israel and North Korea are also raising global nuclear tensions
Leaders of unstable nuclear-armed states do dangerous and foolish things when under stress. They miscalculate, provoke, overreach. Given the febrile state of bilateral relations, last week's aerial military clash between Russia and the US over the Black Sea inevitably intensified fears of nuclear escalation. The incident dramatised how dangerous Vladimir Putin, cornered by his existential Ukraine blunder, truly is – and the risks he is increasingly prepared to run. But he's not the only one.
As often the case over the past year, Putin relied on American restraint. US forces could easily have gone after the offending Su-27 fighter at its Crimea base. Each time Russia's president darkly hints at going nuclear, that once unthinkable prospect becomes a little less outlandish – and western leaders must steel their nerves. Russia's repeated bombing of the Zaporizhzhia nuclear plant fits this pattern of minacious brinkmanship.
Continue reading...