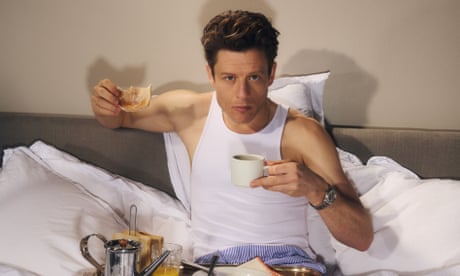 After his amazing success in Happy Valley, James Norton is taking on another dark role, this time on stage. He talks about his lucky streak, fear of failure, grappling with fame and why cold-water swimming keeps him sane
James Norton watched the finale of the BBC drama Happy Valley like 7.5 million of us in the UK: on the telly, at 9pm, on a chilly Sunday night in early February. His girlfriend, the actor Imogen Poots, was away, so he went round to the house of his business partner, Kitty Kaletsky, with whom he has a production company, and her husband. The 68-minute episode, written by Northern powerhouse Sally Wainwright, was immediately and correctly anointed as an instant classic: a denouement, nearly a decade in the making, that lived up to the hype and anticipation. The showdown between Norton's character, the deranged and deluded serial murderer and rapist Tommy Lee Royce, and Sarah Lancashire's magnificently lugubrious police officer, Sergeant Catherine Cawood, managed to be tender, cathartic and utterly mesmerising.
Not that Norton allowed himself to be totally swept along with the fuss. "Most of all I was relieved to see it had delivered, for Sally's sake, Sarah's sake, my sake," he says, with measured understatement. "There was such expectation and I was like, 'It's OK, we did it.'" When the credits rolled, Norton thanked his hosts, climbed on to his bicycle and, like Tommy escaping from the courthouse in the penultimate episode, cycled home, anonymously, through the streets. Then the most wanted man in British acting had a bath.
Continue reading...