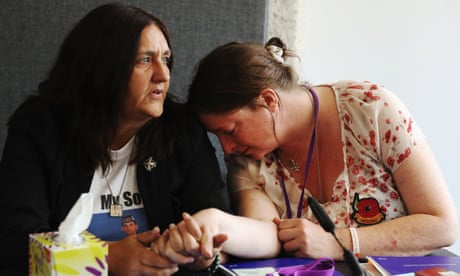 For years after my Gordon's death in Iraq, I campaigned for justice – until the 2016 inquiry and that encounter. A reckoning is overdue
Although it's 20 years since the Iraq war started, and coming up to 19 years since my son was killed, it still feels like yesterday to me. Anniversaries don't mean much except another year without Gordon. It's just as hard as it was in the beginning.
Gordon never really had an ambition to join the forces. He was just a normal boy: full of fun, loved his sisters to bits, never got into trouble. He loved climbing, so if you were looking for Gordon you'd look up the nearest tree. He'd have his pals round every weekend, and they built a shed in a neighbour's garden and nicknamed themselves the shed heads.
Rose Gentle's son, Gordon Gentle, was killed in Iraq in June 2004. As told to Katy Guest
Do you have an opinion on the issues raised in this article? If you would like to submit a response of up to 300 words by email to be considered for publication in our letters section, please click here.
Continue reading...