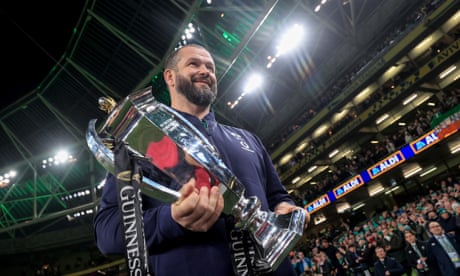 Andy Farrell's men are deservedly favourites for France while England must learn quickly from their disappointing Six Nations
The list of teams who have won a Six Nations grand slam and followed it up by hoisting the World Cup in the same calendar year can be counted, for now, on a solitary English finger. Even as Ireland's players, coaches and supporters celebrated a famous achievement on Saturday night, though, they were already raising their eyes to the horizon and asking if something brighter might yet materialise.
Only Clive Woodward's England have previously stood where Ireland do now: the official grandmasters of Europe and the planet's No 1 team six months out from a World Cup. Woodward's squad just about kept going long enough to hit double top in 2003 and the obvious next challenge for Andy Farrell's Ireland is to do likewise.
Continue reading...