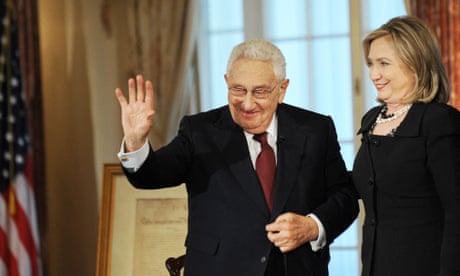 Much of the world views Kissinger as a war criminal – yet in the US, surrounded by powerful friends, he is feted as a celebrity intellectual
Henry Kissinger turns 100 on Saturday, but his legacy has never been in worse shape. Though many commentators now speak of a "tortured and deadly legacy", for decades Kissinger was lauded by all quarters of the political and media establishment.
A teenage Jewish refugee who fled Nazi Germany, Kissinger charted an unlikely path to some of the most powerful positions on Earth. Even more strangely, as national security adviser and secretary of state under Nixon and Ford, he became something of a pop icon.
Bhaskar Sunkara is the president of the Nation, the founding editor of Jacobin, and the author of The Socialist Manifesto: The Case for Radical Politics in An Era of Extreme Inequalities
Jonah Walters is a freelance writer and postdoctoral fellow at the UCLA Institute for Society and Genetics
Continue reading...