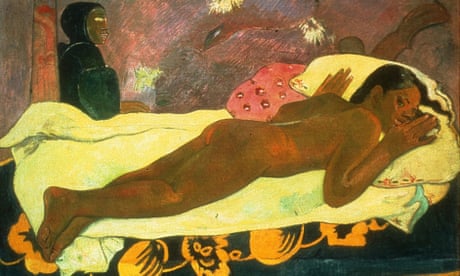 Who is the young girl in Paul Gauguin's painting Spirit of the Dead Watching? On a trip to Tahiti, the film-maker and novelist Devika Ponnambalam finds out the troubling truth
She lies naked, on her belly, palms flat on the pillow. Her skin is dark as wet earth, hair black as night. A traditional Tahitian cloth covers the mattress, marigold yellow petals against midnight blue. The wall behind the bed is violet-dark with phosphorescent flashes of white. At her feet, a shadow crouches with a black shroud covering the head, so that the face appears as a death mask. This old woman at the young girl's feet is a tupapau, or spirit of the dead.
The first time I saw Spirit of the Dead Watching was in 2001 as a tiny colour reproduction embedded within a magazine article about Paul Gauguin's life – how the French painter had left western civilisation behind in order to find an untouched world and a new way of seeing. The article also described how he'd died of syphilis.
Continue reading...