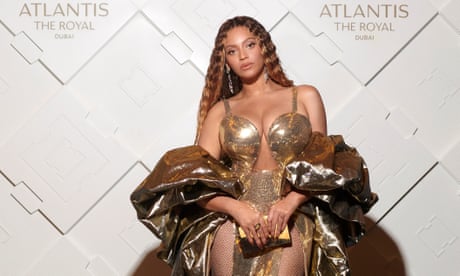 Arguments focusing on the low application of the UAE's anti-gay laws overlook the privilege it takes to evade them – and the reality of the labour that builds Dubai's luxury playground
It's not a Beyoncé comeback if it doesn't "cause all this conversation", and the musician's first concert in more than four years has been no exception. Over the weekend, Beyoncé was paid a reported $24m to perform at the unofficial opening of luxury Dubai hotel Atlantis the Royal, in front of an invitation-only audience of celebrities, influencers and journalists. But this choice of location for Beyoncé's return to live performance – her first since the release of last year's widely acclaimed Renaissance, although none of the album's tracks were on the set list – has proved divisive.
Fans may well feel disappointed to see Beyoncé prioritise a private performance in Dubai for largely wealthy attenders, including Ronan Keating and Michelle Keegan of all people, given that she's yet to release videos for the album, let alone announce the long-anticipated Renaissance tour – for which ticket prices are expected to be eye-watering. But the majority of online criticism has been driven by UAE's laws criminalising homosexuality and gender reassignment.
Continue reading...