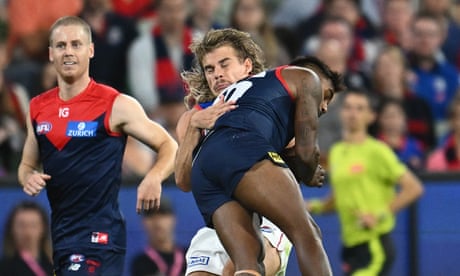 Questions abound after an opening round that was exhilarating at times, savage and gruesome at others
My partner and I recently became parents for the first time and all three of us have been familiarising ourselves with the philosophies of Dr Seuss. "Sometimes," the good doctor writes, "the questions are complicated and the answers are simple." Do we overcomplicate football? Do we read too much into round one in particular? Is it, as Malcolm Blight always insisted, the least important round of the season? Or it is a vital launching pad?
It wasn't even the weekend, and footy was already tying itself in knots with its complicated questions. Should we play extra time? (No). Is there any particular reason why the AFL review centre footage sourced from an NEC Fido? Is Ed Sheeran, who wrote a song about breaking his leg, responsible for Tom Stewart's injury? Can we concede that maybe, just maybe, Chris Scott had a point about the MCG's shifting surface? Is he not allowed to offer an opinion without being labelled a whiner and an excuse maker? Is he supposed to sit there, like the old horse trainer Jack Denham, and simply refuse to speak whenever he's asked a question?
Continue reading...