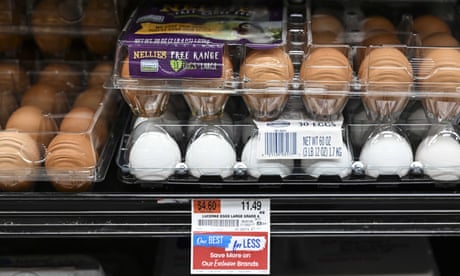 Producers blame avian flu for the soaring costs, but one farmers' group is airing accusations of price-gouging
The egg carton has become the symbol of inflation. By the end of 2022, prices had shot up 60% year-over-year putting a strain on holiday budgeting for households across the country.
Some Americans got creative with their sourcing. Attempts to smuggle eggs across the US-Mexico border have surged, US Border Patrol says, with the agency reporting that the number of egg and poultry seizures rose 108% from 1 October to 31 December. Shoppers are also seeking out local farms, which can be cheaper. Egg farmers on TikTok have poked fun at this boon, calling themselves "egg dealers", weighing their produce as if it were a kilo of drugs.
Continue reading...